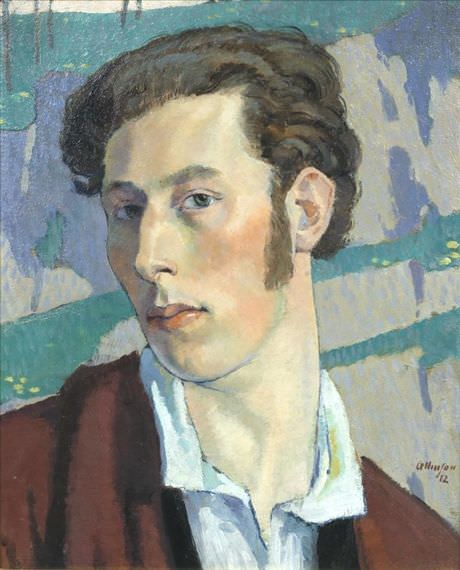 Painter, potter, sculptor, engraver, Adrian Allinson (1890-1959) worked consistently from 1913 to the end of World War 2.

Fortunate to have support from a wealthy family, he was able to travel extensively in Europe, leaving behind many works from the Mediterranean. Today, a few of his paintings can be found in UK art galleries and museums. He still has some reputation in the art community but is not ranked at the highest levels. Since his death in 1959, only one exhibition of his work has been held—by the Fine Art Society in 1984. His unpublished autobiography, A Painter's Pilgrimage, remains unpublished in the McFarlin Library at the University of Tulsa.
Here are the main details of his life:
Family: He worn the eldest son to Thomas Allinson, a doctor who promoted vegetarianism and contraception and was eventually struck off the medical register for his unorthodox views. Subsequently Thomas Allison turned to manufacturing bread—the famous Allinson whole grain bread. His mother was a portrait painter.
Education: After dropping out of medical school, he enrolled at the Slade School of Fine Art. He graduated from the Slade in 1910 and then continued his studies in Munich and Paris until 1913.
Early Career: He began to exhibit 1914; He was a founding member of the Camden Town Group (English post-Impressionist) and later joined the London Group (formed to promote non-conservative artists). He registered as a Conscientious Objector in 1916.
World War 1: His employment included caricature drawings for the Daily Express and set design for the Beecham Opera Co 1914-1917. His well-known "The Café Royal" was painted at this time.
1920s, 1930s: These were his most productive years; he travelled extensively in Italy, Switzerland, Greece, North Africa, Mallorca, Ibiza and Spain.
Late 1930s: He produced posters for London Underground and London Transport. Some of these posters are now regarded as classics.
World War 2: He worked as a government war artist. Two notable wartime works were "The AFS Dig For Victory in St James's Square" and "Harvesting."
After World War 2: He taught at the Westminster Technical Institute, exhibited at the Royal Academy and in Toronto, and continued to design stage sets.
Slade class, 1912. Allinson seated with dog. Spencer is on his left.
An incident during Adrian Allinson's student years at the Slade provides insight into his talent and character. He and Stanley Spencer were the top students of their year and were awarded the two annual scholarships. However the scholarship required the submission of specific types of work before the money could be dispensed. Allinson had no trouble fulfilling this requirement, but Spencer would not conform, thus putting his award in jeopardy. Allinson came to the rescue. He completed the required works in Spencer's style and submitted them for his friend. When these were accepted by the school, Allinson felt he should inform his friend of what he had done. But Spencer, concerned about his own future reputation, asked Allinson to withdraw the counterfeit works. Thus Allinson's gesture came to nought; nevertheless, it demonstrates not only Allinson's ability as a painter but also his generous character.
Cafe Royal, 1916. Allinson puts himself on the right.
Allinson's skills as a painter have always been acknowledged. Despite this, he is rarely mentioned in books on British 20th century art. He is not one of the 35 English artists covered in John Rothenstein's influential three-volume Modern English Painters; he is not mentioned in Frances Spalding's British Art since 1900. The fact that he is not included in the canon of British twentieth-century painting might be due to his inclination to stay close to realism. This might explain to some degree why he is ranked below some of his innovating contemporaries like Stanley Spencer, Eric Ravilious, Francis Bacon and John Piper.
Brindha, 1942
The extensive Times obituary makes this point—perhaps too strongly--by mentioning Allinson's "complete detachment from fashions in art." The obituary goes on: "In sympathy he was with the 'advanced' people, but he kept his head, so that his work passed muster with the champions of orthodoxy." (21 Feb. 1959) Allinson stayed close to realism at a time when the trend was moving away from it. Praise for his work sometimes came with an implied "but." He had "artistic honesty" but painted "on the calculated rather than impulsive side." (Times, 6 Nov. 1930) The same critic found him "holding his emotion in check in his anxiety to avoid rhetoric." (Times, 6 Nov. 1930) Likewise, another critic asserted that "one may feel he is inclined to sacrifice sentiment to integrity." (Journal of the Royal Society of Arts, 21 Nov. 1930) Perhaps the following are the two most helpful assessments. First, "He has his limitations in a certain coldness of outlook—not of colour—and a need for intricacy in his designs, but he is a very workmanlike artist." (Times, 3 Jan. 1935) Second, "His great merit is his control of completely realised forms and positive colours." (Times 3 June 1936)
Harvesting, 1942
Sadly, not much of of Allinson's considerable oeuvre is easily accessible. In London, the Tate, the Royal Academy of Music and the Victoria and Albert all have Allinsons. His works can also be found in at least a dozen galleries across England, from Southampton to Sunderland and from Brighton to Manchester. Abroad, the Santa Barbara Museum of Art boasts three Allinsons. Of course, some of his paintings can be found on the Internet, but these low-detail depictions do not permit a proper appreciation of his skill. And there are posters by Allinson, done in a style that he developed successfully in the late 1930's when working for London Transport. The London Transport Museum offers some Allinson posters and even a jigsaw puzzle of his depiction of Windsor Castle.
Several Allinson works can be found in an article on this site, Coppice Gate: "Adrian Allinson Paintings on Vancouver Island." The best of these are "Nude Above Lake," "Steps in Ibiza" and "Potted Plant with Snow Outdoors." One of the highlights of the catalogue for the 1984 exhibition—alas in black and white--is "Brindha." Then there is the celebrated "Café Royal" (1915-1916), which was purchased by Café Royal owner Charles Forte for 650 guineas. A later example is Allinson's "Dig for Victory" (1942), which was recently featured in the Times Literary Supplement.
Portrait of Mollie
Mountaineering with Peter Warlock (left).
Dig for Victory, 1942