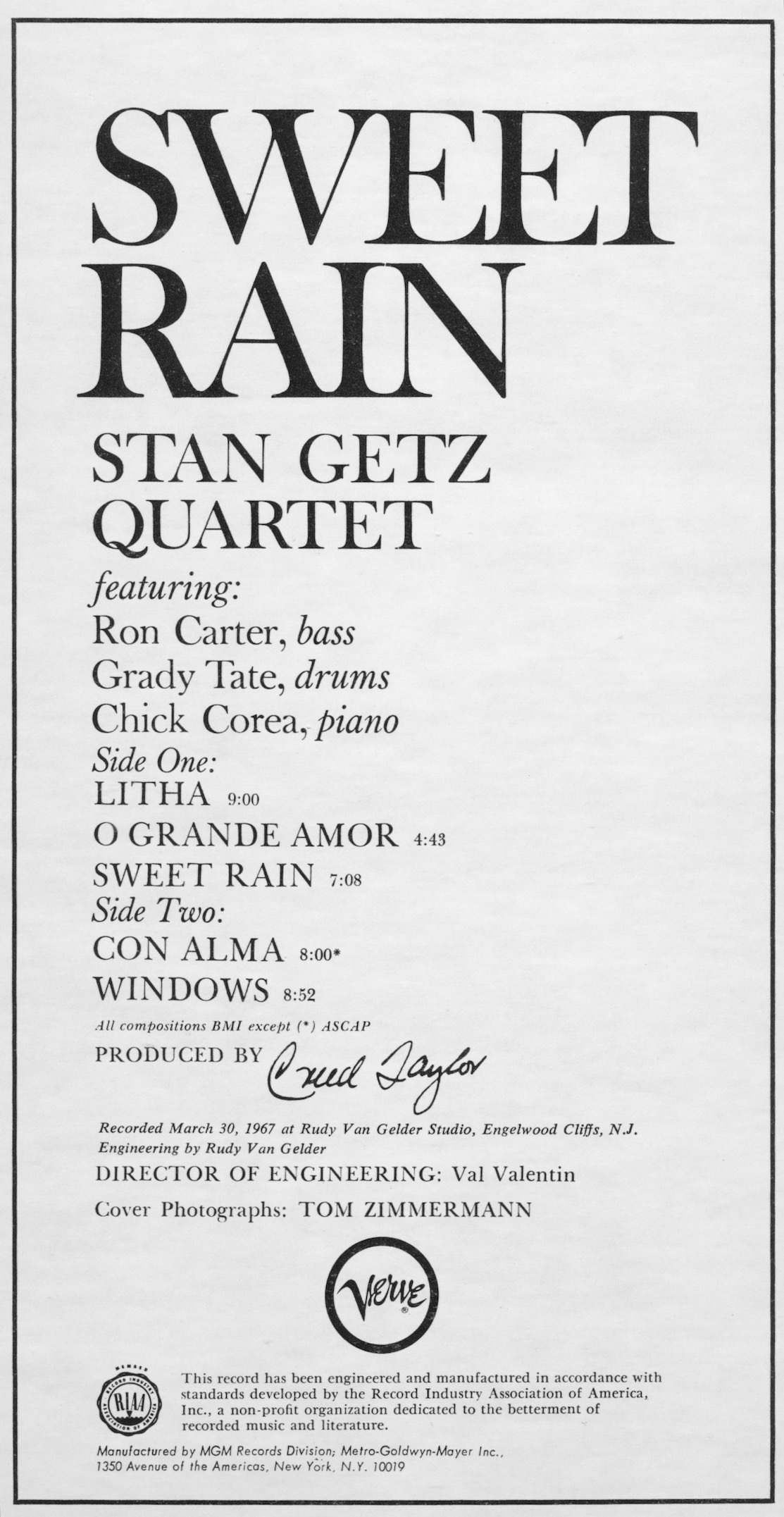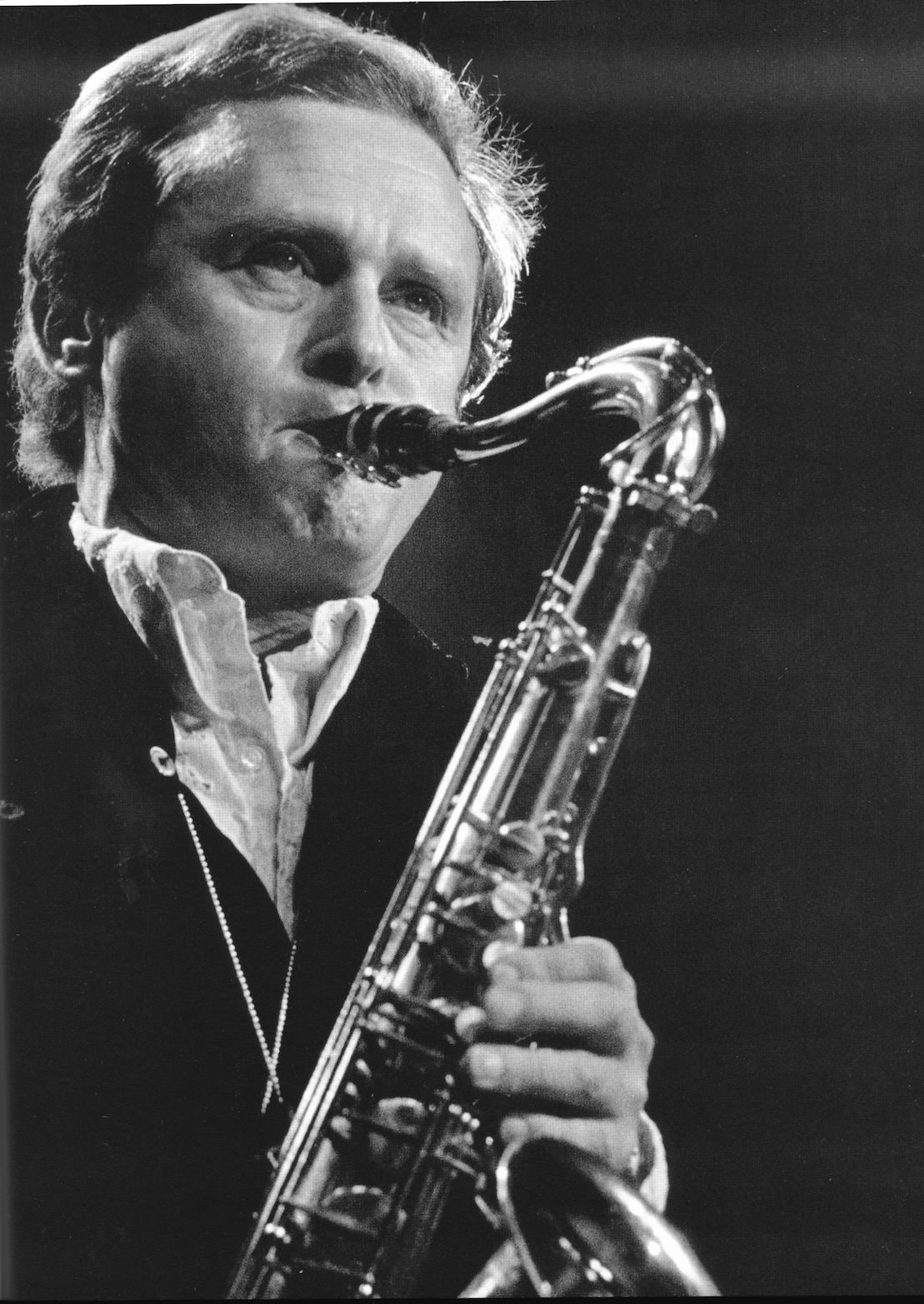 Stan Getz, for me, is the Orpheus of jazz. I have been continually spellbound by his playing—as the wild beasts and even the trees were spellbound by the music of the mythic Orpheus. That's 50 years of being spellbound because I bought this album when it was issued in 1967! (And the LP still sounds good.)
From 1937 to 1990 Stan Getz recorded so many brilliant albums that I could list a dozen that would be worthy of being in my must-have list. However, I consider Sweet Rain to be his finest album. Recorded in 1967 when he was 40, this Verve album shows Getz at his very best, playing in a style that was to continue to the end of his career. This style had evolved from his earlier soft alto-like playing. The change came in the early 1960s when he was playing bossa nova.
The early 1960s was also the time when a lot of university-trained musicians arrived on the jazz scene, bring with them new rhythmic and harmonic ideas. Both Corea (25) and Carter (29), who support Getz on this album, were two such musicians. Corea studied at Columbia and Julliard, though not completing any degrees; Carter completed a BA at Eastman and an MA at the Manhattan School of Music. By the time of this album they had both established themselves as innovators in the forefront of jazz. And they did have an impact on Getz's playing here—though not the "momentous change of direction" that critic Richard Palmer claims. (Stan Getz, 1988, p. 50) And the same Richard Palmer claims that Corea "exerted the most profound influence of all" on Getz. (p. 50) Suffice it to say that both Carter and Corea made great contributions to the success of this album.
It's important to note that both Carter and drummer Grady Tate had recorded with Getz a few months earlier on Voices. I am not sure whether they had played together on other occasions, but from this recording, they certainly had a good idea what Getz wanted from them on Sweet Rain.
This album was recorded in two sessions, on March 21 and 30, 1967. The original album wrongly lists only March 30 for the recording. It appears that producer Creed Taylor was hoping that the recording would be done in one session: Six different numbers were completed on March 21, but three were rejected and have never been issued: "Mike's Blues," "Nightingales Sang in Berkley Square" and "When the World Was Young." The three successful numbers were "Sweet Rain," "O Grande Amor" and "Litha."
With only 21 minutes of acceptable music in the can, Creed Taylor had to set up a second recording session. Decisions made in the nine days between sessions changed the album from being a random collection of compositions into a more unified collection of Latin influenced compositions. Only two numbers were recorded in the second session on March 30: "Con Alma" and "Windows." When the album was assembled, Taylor placed the first session's three numbers on Side I and the second Session's numbers on side 2. The subsequent CD kept the same order.
Vestiges of Getz's bossa-nova phase are still evident throughout this album, no doubt partly due to Chick Corea. According to Mark Gridley, "Latin American music also inspired Corea's style…. Even in non-Latin jazz contexts, Corea's playing bears the double-time feeling of Latin American music." (Jazz Styles, eleventh edition, p. 351) Even "Sweet Rain" and "Windows" have a Latin feel. This unifies the album in a way that was not intended at the time of the first recording.
There is not a weak track on this album. Further, there is variety—from the two-tempo "Litha" and Con Alma" to the sensual balladic "Sweet Rain" to the bossa nova "O Grande Amor" to the freer "Windows." The four musicians cope easily with many rhythmic and tonal changes. It is complex music, but this is never apparent to the listener. On "Windows," for example, Getz plays more freely than usual, and the trio is able to follow him flawlessly through all the variations. Getz's supreme confidence on this track is no doubt in part due to the superb support from his accompanying trio.
But the playing of Getz is the essence of this album. He plays the tenor saxophone as no one has before or since. His complete mastery of the instrument, his ability to play what comes into his head, his complete understanding of harmony and his experience from 20 years of playing—all these contribute to his brilliant playing here.
Listen to his eerie playing on "Sweet Rain," with the rumbling low notes; listen to the joy as he moves up the tempo on Litha; listen to abandon of his free improvisation on "Windows."
But praise should also go to his support group. Corea excels as both an accompanist and a soloist: listen to his playing behind Getz on "Windows," and his beautifully structured extended solo on "Con Alma." As for Carter, he is perfect on all the tracks; I often listen to this album just focusing on his contribution. He has taken the bass well beyond is traditional role as a rhythm keeper. And Grady Tate's work, thanks to the excellent recording at the Rudy Van Gelder studio, can be appreciated for its precision and taste. He is always interesting but always remains in a supporting role.
As I said earlier, I have had this album for 50 years. It remains as fresh as ever.