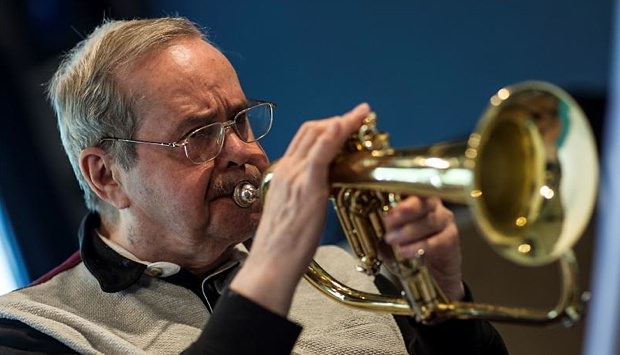 The spirit of Kenny Wheeler lives on. A new work of his has just been recorded: Suite for Hard Rubber Orchestra. Completed in 2013, not long before his death, this suite has all the richness and beauty of his earlier orchestral compositions. Although Wheeler's trumpet and flugelhorn playing understandably lost some of its earlier power in his 70s and 80s, his creativity stayed with him till the end.
This suite was commissioned by John Korsrud, founder and director of Vancouver's Hard Rubber Orchestra. It was first performed at Simon Fraser University in 2013 and was finally recorded and issued in 2018. For the recording, Korsrud enlisted British vocalist Norma Winstone, who had worked with Wheeler for many years and whose voice became an integral part of the Wheeler orchestral sound. As well, Korsrud organized some fine soloists: Eli Bennett on tenor, Mike Herriott on trumpet, Campbell Ryga on alto, and Ron Samworth on guitar.
The Hard Rubber Orchestra, with the emotional presence of Norma Winstone, certainly rose to the occasion. The playing on this CD is as fine as any orchestral recording of Wheeler's music. And this is saying a lot if you think back to Wheeler's Windmill Tilter(Johnny Dankworth Orchestra, 1969), Music for Large and Small Ensembles(1990), Siren's Song(Maritime Jazz Orchestra, 1996), and The Long Waiting(2011). The unmistakable Wheeler sound is captured perfectly not only by the orchestra but also by the recording engineer Eric Mosher, who manages to blend the orchestral sound and yet allow the main individual instruments to be heard—even the piano.
The Suite is divided into five movements, four of them portraying soloists. Perhaps because the recording provided only 26:38 of music, Additional material has been added: three short improvisational duets. These duets have been inserted in between the five movements of the suite. While this does fill out the CD and while the improvisations by trumpeter Brad Turner are excellent, I feel that these improvisations would have been better placed after the Suite. They interrupt the flow, and I can't detect any direct connection between each improvisation and the preceding movement of the Suite.
But this is my only quibble. The HRO's level of musicianship is high. The emphasis on brass in the ensemble passages, a trait of Wheeler's orchestral writing, is brought out perfectly by the five trumpets/flugelhorns and four trombones. The rich Wheeler sound, which in some ways is reminiscent of Gerald Wilson's (he was a trumpeter too), often uses the brass as an underlying somewhat static sound, leaving the more melodic aspects to the soloists and the sax section.
Each Movement has solo highlights. In Movement I, Eli Bennett's tenor builds a hard-blowing contrast to the mellow waves of the ensemble sound—although for my taste he plays too many high notes. Movement II is notable for Mike Herriott's solo. Movement III shows Norma Winstone's skills to great effect. The dreamy Movement IV is complemented by Ryga's melodic solo. Herriott's flugelhorn solo in Movement V is a worthy conclusion to the Suite.
Kenny Wheeler's music evokes a beauty that some have called religious. Indeed I detected a reverence among the last Wheeler orchestra in a 2010 concert in Basingstoke, where Wheeler's music, flooding the half-empty concert hall, took my breath away. Sadly the subsequent recording by this orchestra following their UK tour was disappointing. But the Hard Rubber Orchestra shows that the high quality music I heard in Basingstoke can be produced on CD.