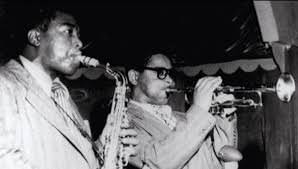 The partnership between Dizzy Gillespie (left) and Charlie Parker (right) in the early 1940s was the key element in the birth of bebop in jazz. Ross Russell, for example, has written that they played "an omnipotent role in the forging of the new style." ("Bebop," Martin Williams, ed. The Art of Jazz, p. 197) The two met in Kansas City in 1940, but their relationship didn't develop until 1942, when they were both members of the Earl Hines big band. They had very different personalities: Gillespie was an organized and businesslike musician, with an ability to write arrangements; Parker, a heroin addict since 1937, was a disorganized and unreliable musical genius. Nevertheless, this odd couple managed to work closely together for a short period to create some of the finest music in the history of jazz.
The two young Earl Hines sidemen—Gillespie, 25; Parker, 22—bonded quickly. According to Ross Russell, they spent a lot of time woodshedding backstage, sight-reading exercises and building up technique: "The speed with which Bird and Diz could get over their horns became legendary…. Nobody in jazz played with such speed and precision." ("Bebop," p.148)
After two years, Parker and Gillespie both moved to Billy Eckstine's bebop big band. Gillespie became musical director and Parker leader of the sax section. Parker had already shown Gillespie how unreliable and unpunctual he was. These failings caused major problems for Gillespie once they organized their own gigs and recording sessions.
Drummer Stan Levey remembers Bird's lateness: "We'd be late all the time…. Charlie was a ragamuffin. You had to put a net on him to get him where you wanted him…. So the attitude Dizzy had toward Charlie was, well, we have a child here who has great talent. And whadda you do with a child? You have to look after him—not a father-son—but a kind of 'keeper' in a way." Levey concluded, "It was unbearable for Dizzy." (To Be or not to Bop, pp. 248-9)
Another drummer, Max Roach, recalls an occasion when Bird arrived late at The Three Deuces club after the first set had started. Instead of hurrying onto the bandstand, Bird went into the bathroom to "shoot up." Roach remembers Dizzy losing his cool on this occasion and berating Bird.
Dizzy always managed to cool down after Parker's indiscretions. Rationally he understood that Parker's addiction would always be the cause. And he needed Bird's brilliance: "Charlie Parker's contribution to our music was mostly melody, accents and bluesy interpretation. And the notes! Bird has some notes in his melodies, the lines that he wrote, that are deep, deep notes, as deep as anything Beethoven ever wrote." (To Be or not to Bop, p. 151) He praised Parker on many occasions: "Boy, you talk about perfect! Perfect melody with chords. It's just perfect, man, the lines that he wrote." (p. 234)
Another incident illustrates both how much Parker tested Gillespie and how much Gillespie needed Parker. One night the trumpeter was woken by his doorbell at 3am. Parker was standing in the hallway: "Let me in, Diz. I've got it. You must hear this thing I've worked out." Dizzy told him to wait until the morning. Parker: "No. I won't remember it tomorrow; it's in my head. Let me in please." When Dizzy closed the door on him, Parker played the melody loudly in the apartment hallway. Dizzy ended up writing down Bird's music from behind the apartment door. (Robert Reisner, Bird, p. 94)
There was resentment on Parker's side too. He had to endure Gillespie's frustration on many occasions. Max Roach recalls he was "bitter" when he was publicly shamed during the Three Deuces incident. Perhaps the closest they came to blows was the time when Parker threw down Gillespie's pipe and broke it. Although a friend urged Gillespie to fight, he didn't: "I was mad though. Just as I would get mad when Yard [Parker] would come in late." (To Be or not to Bop, p. 234)
An event in 1949 illustrates Parker's resentment. In a profile in Down Beat (8 Sept. 1949), he complained that Dizzy had no right putting his name to some classic bebop tunes—"Anthropology," "Confirmation," and "Shaw 'Nuff." In the same profile he also criticised Gillespie's current work with his big band.
Despite this public show of resentment, Parker was still invited to Gillespie's big-band debut at Carnegie Hall a week later. Parker, of course, wasn't in this band, but he was scheduled to play six numbers with Gillespie in a quintet setting after the interval.
Earlier in the concert, Parker, according to Gillespie, "just walked out on the stage with one rose, one long rose…and gave it to me. And he kissed me—on the mouth—and then walked off." (To Be or not to Bop, p. 312) But the tension between the two of them was still apparent in the set after the interval. Critic Ross Russell was there:
The Parker-Gillespie set at once exploded into a duel…. Sparks flew immediately. On the ensemble part of "Tunisia" Charlie played a fantastic counterpoint to the theme that would have routed a lesser musician than Gillespie. Off and running, Charlie plunged recklessly and breathtakingly into an alto break while Dizzy, no longer in his jolly mood, retired to gather forces…. There were feints, sorties, lines paraphrased half a tone off pitch, tricky gambits, musical shorthand, stopped time, lightning excursions into strange scales and keys. Parker was the aggressor, Dizzy the counter puncher. (Bird: The Legend of Charlie Parker, p. 94)
The recording of this set, now on CD (The Complete Performances on Savoy), heard from an objective 70-year distance, shows that Russell's colourful description of the "duel" was exaggerated. However, Gillespie recalls that Louis Armstrong (See photo below), who was in the audience, clearly perceived a duel. Armstrong told Gillespie: "You're cutting the fool up there, boy. You're showing your ass." (To Be or not to Bop, p. 312) In reply, Gillespie denied he had been cutting Parker. It's possible that he had been acting instinctively rather than intentionally—the cumulative result of getting angry with Parker so many times.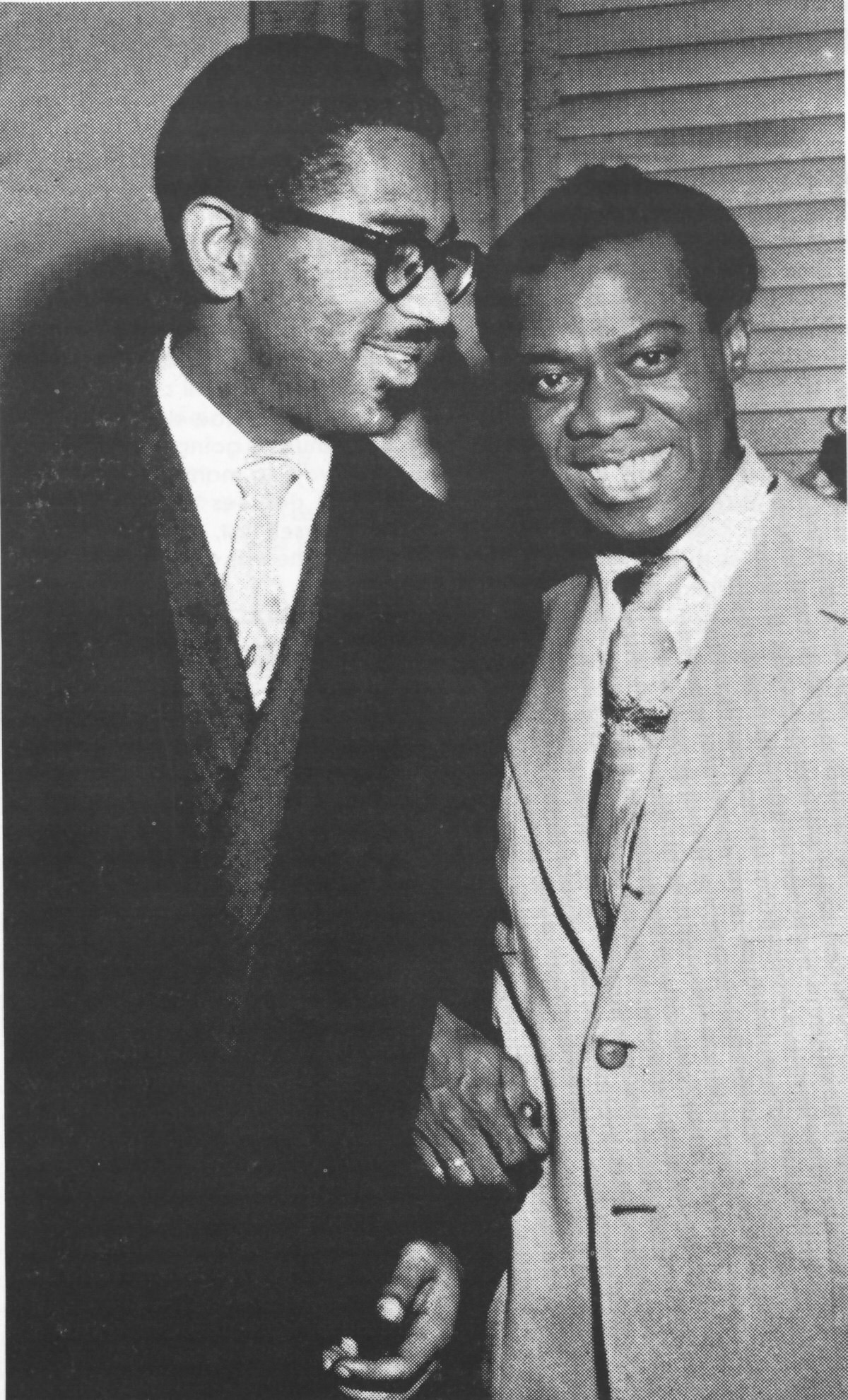 Gillespie's response to Parker's Down Beat attack was published a week after this concert. He avoided Parker's specific charges. Instead he focused on Parker's assertion that bebop wasn't connected to jazz: "Bebop is part of jazz and jazz music is to dance to. The trouble with bop as it is played today is that people can't dance to it…. I want to make bop bigger, get it a wider audience." (Quoted in Donald L. Maggin, Dizzy, p. 238)
After the 1947 Carnegie Hall concert the Gillespie-Parker partnership was essentially over. Until his death in 1954, Parker rarely played with Gillespie.
Throughout their relationship Gillespie never saw Parker as a rival and was always quick to credit his partner's role in the development of bebop. He would never say anything against Parker publicly. Sometimes he would overdo his claims that the two had a perfect relationship: "Yard and I never had any kinda words, or anything. There was never an underhanded shit with us like the newspapers made out." (To Be or not to Bop, p. 234)
Gillespie was not Parker's Boswell, but his role as transcriber of many of Parker's "deep, deep notes" was crucial in the development of bebop. But just as crucial was Gillespie's contribution with his horn, as any of the early-1940's recordings he made with Parker show. He discussed his role in developing bebop in 1980 with Brian Priestley: "I would say my main contribution was in the field of harmony and rhythm. Charlie Parker's was phrasing, which I think was the most important part of the music, anyway…. We had all our rhythm and our harmonies all ready, and then Charlie Parker came on the scene demonstrating how it could be done." (Charlie Parker, p. 236)
Finally, Parker's personality should be taken into account. Lawrence Koch has discussed a psychological aspect of Parker's attitude toward Gillespie: "Jealousy, of course, was the core, and Parker was a jealous man." Koch sees Parker's ego as much weaker than Gillespie's and it "needed constant feeding." This led to his envy of Gillespie's musical achievements. Parker was thus "an insecure, equally competitive individual with inwardly directed drives that resulted in self-destructiveness and an inner confusion of motives." (Yardbird Suite, pp.120-1) But could he play!
Cutting: A competition between two jazz instrumentalists to determine who has the better skills.