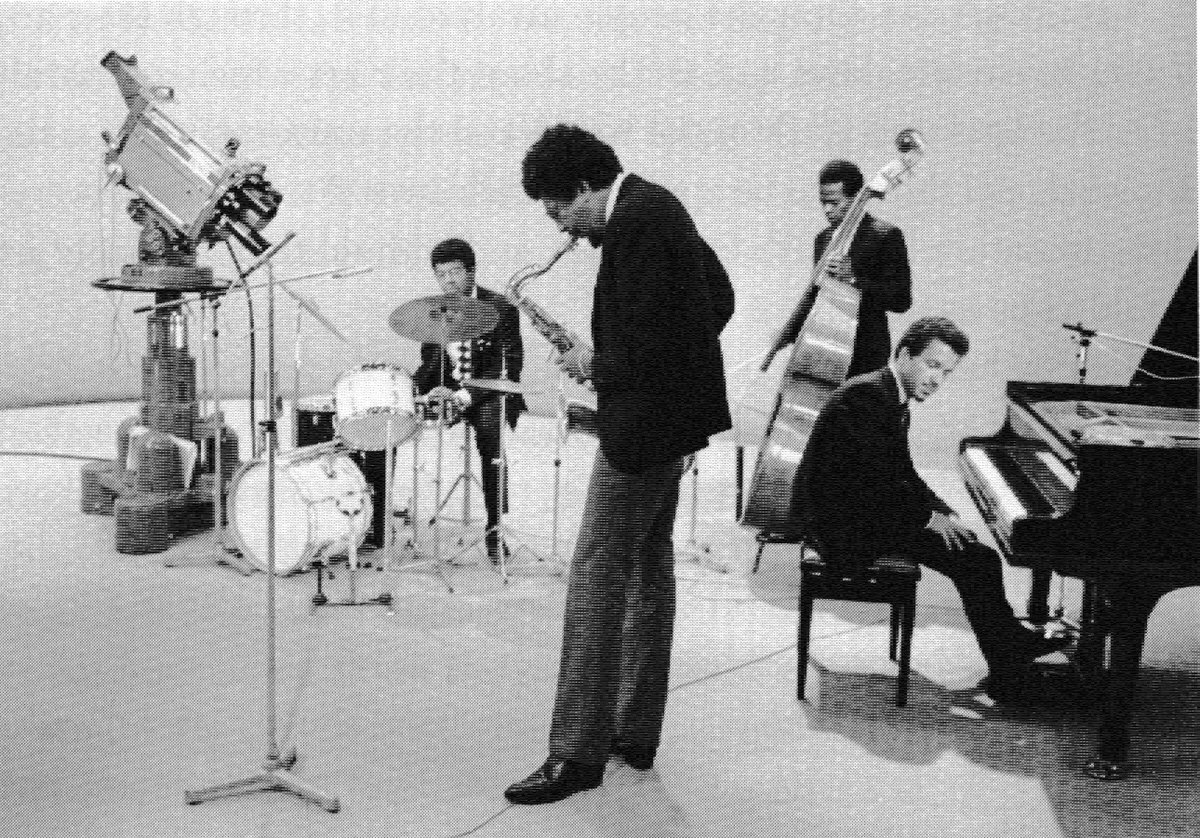 "You own the music, we make it" Archie Shepp
"Most jazz critics have been white Americans" Amiri Baraka
Today in 2021 the critical reputation of 83-year-old jazz musician Charles Lloyd is very high—just as it was in the 1960s. But for two decades after 1970 he was first denigrated and then ignored. His low status after these two decades is clearly shown in the 1992 edition of The Penguin Guide of Jazz on CD: "Any man who discovers both Keith Jarrett and Michel Petrucciani can't be more than half bad." (p. 676) However in an edition ten years later the Penguin Guide had changed its tune: "For a time Lloyd was so terminally uncool it was almost embarrassing to mention his name in mixed company." The Guide went on to explain unconvincingly that Lloyd's repaired reputation was due to "a dark new sound." (p. 921)
The low critical esteem towards Lloyd, which stretched from just before 1970 to the 1990s, is evident in the major survey books published over the last 30 years. James Lincoln Collier (1981), Frank Tirro (1993), Mark Gridley (2003), Alyn Shipton (2006), and Ted Gioia (2011) all ignore Lloyd's 1960s music. Some leading critics like The New Yorker's Whitney Balliett did too. The result was that the 1960s jazz of Charles Lloyd disappeared. According to jazz-record-store co-owner, Shaukat Husain, who ran a store from 1983 to 1998, "It was as if Lloyd didn't exist." Jack Chambers has said almost the same thing, using the words "almost entirely forgotten." (Milestones II, 1985, 136)
The quality of Lloyd's music in the 1960s is undeniable. His playing and arranging on seven albums for the Chico Hamilton group (1960-1963) were acknowledged for quality and originality. Recordings under his own name were even better: after a tentative debut with Discovery!, Lloyd next recorded a landmark album with Gabor Szabo, Ron Carter and Tony Williams: Of Course, Of Course. Although well received at the time, full recognition of this album as a classic came a lot later in 2006 when Mosaic Records reissued it in their Mosaic Select Series. Eighteen months after Discovery, Lloyd hit the pinnacle of success with his live recording Forest Flower, which was the first jazz album to sell a million copies. With Keith Jarrett, Cecil McBee/Ron McClure and Jack DeJohnette he went on to make five more successful albums for the Atlantic label before the end of the decade.
So why did Lloyd subsequently fall so low in critical assessment? In a very short period he went from being perhaps the most successful recording musician in jazz and the 1967 Down Beat "Jazz Artist of the Year" to critical disgrace and exile, with labels like "newly adopted darling of the psychedelic crowd." (Hollie I West, Washington Post, 28 January, 1968)
**
Lloyd's fall from grace really started with Lloyd's engagement with the Fillmore Auditorium in San Francisco. In mid-1960s, under the management of Bill Graham, Fillmore had become the focus of popular music world. However, no jazz group had performed there until the Charles Lloyd accepted a week's engagement for August 15-21, 1967. "We were supposed to play for 45 minutes, [but] the audience wouldn't let us off for an hour and a half, " Lloyd recalled later. Woodard 54 After this engagement, Graham booked the Lloyd quartet for a whole week.
But rather than congratulate Lloyd on his successful communication with the young generation, which continued after the Fillmore gig, many in the jazz world felt that Lloyd had betrayed them. Lloyd recalls that both Miles Davis and Ornette Coleman "criticized" him for playing the Fillmore. (Note that Miles Davis soon changed his opinion and appeared at the Fillmore himself.)
A year later, as Lloyd went from success to success with Forest Flower and a European tour, Martin Williams, one of the most respected jazz critics in America attacked Lloyd in the New York Times (15 Sept. 1968). Williams had long been working to improve the status of jazz; he wanted jazz to have the same respect that classical music enjoyed. Together with Leonard Feather he had published The Jazz Review from 1958 to 1961. It tried to establish a jazz canon, sometimes severely censuring those musicians who in their opinion did not belong. As my article "The Jazz Review: Why So Short-lived?" shows, this idealistic approach led to a backlash from musicians that contributes to the magazine's demise. Nevertheless, as this New York Timesarticle on Lloyd shows, Williams continued working to control the jazz canon.
I want to look carefully at the section of 228 words on Lloyd in this brief article, as I believe they encapsulate the main reasons for Lloyd's exile from the jazz scene. (The article actually reviews several albums, including Lloyd's Nirvana.) The article is headlined "Will Charles Lloyd save jazz for the masses?" It deals with Lloyd's album first, following on immediately from the provocative and sarcastic headline. After establishing Lloyd's credentials—Jazzman of the Year in Down Beat, profiles in "Slick magazines" and "representing American culture" in the USSR—Williams refers to the claims of one anonymous "observer," who sees Lloyd as a popularizer of jazz, someone who could save jazz from its "hopelessly esoteric forms and practices."
Without further ado, Williams goes straight into an attack on Lloyd. Initially his attack has nothing to do with Lloyd's credentials and nothing to do with his music. Instead he attacks Lloyd's personal appearance: "Lloyd certainly puts on a show of sorts. With wildly bushy hair, military jacket, and garishly striped bell bottoms, he looks like a kind of show-biz hippie." Clearly Lloyd's current appearance on stage—which has nothing to do with music recorded five years earlier--struck a nerve to such a degree that rather than evaluate the music on Lloyd's Discovery!, Williams carries out a blatant personal attack. What has Lloyd's appearance to do with the music on the album Williams is reviewing?
There's more. In the next sentence his attack moves to Lloyd's playing: "He usually sounds like a kind of show-biz John Coltrane." Williams here echoes a widely held but questionable judgment of the derivativeness of Lloyd's tenor playing. And this one sentence is all that Williams writes about Lloyd's playing on the album.
Third, after mocking Lloyd's stage manner ("his show of sorts") and belittling his playing, Williams finally gets to the album under review. He says nothing about the quality of the music, instead pointing out the music was recorded "a few years back" and that the back-liner gives no credits or personnel.
For his final paragraph, Williams returns to the depiction of Lloyd by his anonymous "observer" of Lloyd as a popularizer. I am quoting the full paragraph: "However, there is one aspect to Lloyd's popularity that is certainly significant—although more significant socially than musically. Lloyd is a black man. And like Cannonball Adderley before him, he is a black man popularizing black innovations in jazz. The role of popularizer in the music no longer falls to white men, it seems."
This is an oblique paragraph with a lot of its meaning in the sub-text. There is racism here. Generally, racist talk and writing skirts around the issue, relying on vague inferences to make points--thus avoiding direct statements. This paragraph does just that. Yes, it's really hard to pin down what Williams exactly means. He is clearly talking about popularizing, but he muddies the issue by changing the issue from "musically " to "socially." Why is it a significant issue that popularizing is done by two black musicians rather a white one? The last sentence of this paragraph appears to soften the obvious racial charge against Lloyd and Adderley, but it's hard to avoid inferring her that black musicians have no right popularizing jazz—as Lloyd has clearly done.
The two words repeated in the last paragraph—"Popularizing" (twice) and "black" (three times)—are at the core of Williams' complaint against Lloyd. In his effort to maintain the purity and dignity of jazz, Williams can't accept any jazz that has mass popularity. This attitude is understandable in a conservative critic but not in a jazz critic who writes well on great jazz innovators and who would go on to become in 1971 the director of the Jazz and American Culture programs at the Smithsonian Institution and in 1973 the compiler of the prestigious Smithsonian Collection of Classic Jazz. It is disappointing that Williams brings race into his distaste for Lloyd. His "Lloyd is a black man" makes me shake my head—especially when the history of jazz is predominantly "written" by black musicians.
A good example of Williams' desired image of jazz group was the all-black MJQ; it conveyed the dignity and distance of classical performers with its music, its dress and its behaviour. This refined image of jazz began to establish itself in the fifties. Miles Davis for example wore a suit and tie when performing until the late 60s 1960s. And so did Charles Lloyd until 1967, as photos from his 1967 European tour show. This formal business-suit image was part of plan to convey that jazz was serious and sophisticated. However jazz was losing its audience as rock was taking over the popular music scene. When Dave Holland came to the USA to join Miles Davis in 1968, he was surprised to discover that this leading group was playing to small houses. (Ian Carr, Miles Davis, p. 221) The jazz that Williams and his ilk were prescribing was not connecting with jazz fans. Then, when Lloyd became so popular, he had to be attacked. Lloyd disdained the dignified classical-music image. Inspired by his desire to communicate and identify with this audience, he became far more popular than the Miles Davis Quintet and other serious jazz groups.
Critics like Williams left their mark and managed to keep Lloyd out of the jazz canon. Of course this was helped by Lloyd's inability to deal with his fame. He has admitted to "falling apart." As he told his biographer Josef Woodard, "Success is a heady thing. I was young, and by the end of the sixties I had lots of excess. Life on the road, life in the fast lane, had become unsavory. I was suffering inside and out. The music was suffering." (Charles Lloyd: A Wild and Blatant Truth, p.65) His five albums in the early 1970s were justifiably panned, and he was forgotten until the late 1980s. Initially, conservative critics won the battle against Lloyd but ultimately they lost the battle against the changing face of jazz.