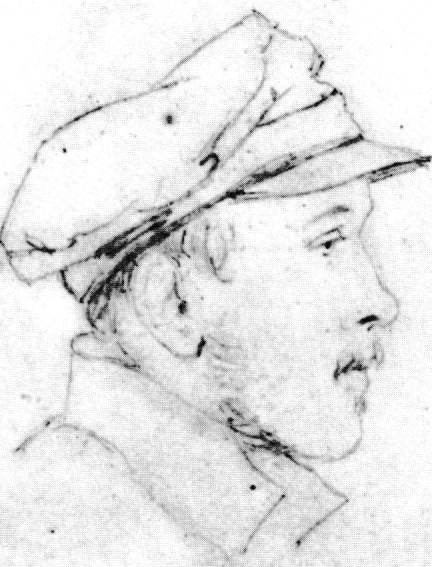 One of Mikhail Lermontov's better known poems conveys the wish to be buried alive under an oak tree. Such a wish is unusual even for a Romantic poet. This untitled poem is dated 1841, the year of Lermontov's death in a duel at 26.
Alone, I step out on to the road;
The stony track glistens through the mist.
The night is still; Nature pays heed to God,
And above, star is talking to star.
The skies are solemn and wonderful!
Earth sleeps in a pale blue radiance…
Why then do I feel such pain and angst?
Do I have expectations? Regrets?
I've no more expectations from life,
And I've no regrets about the past.
I seek freedom and tranquility:
To forget myself and fall asleep.
But not with the cold sleep of the grave:
I wish to be asleep forever,
But with life still slumbering inside me
And my breathing chest rising gently,
With a sweet voice singing love to me,
Pampering my ear all day and night,
While above me would bend and rustle
A shade-giving ever green oak tree.
Even if Lermontov didn't really want to be buried alive like this—and of course what he wishes for is impossible—the question remains why he felt this way. Was life so oppressive for this 26-year-old that he was imagining this drastic solution to his need for "freedom and tranquility"? He wants freedom from himself ("to forget myself") and the tranquility of sleep.
This poem was written as he was returning to the war front in the Caucasus. So imminent death was a distinct possibility. He had already seen action there, earning praise for his courage, and was only denied decoration by the displeased tsar. This combat experience, nevertheless, must have left its mark on this sensitive poet. His long poem "Valerik" describes the famous battle he fought in:
Those not managing to dismount
Charged the ramparts on horseback…
Hurrah—then silence.—Daggers
And gun butts!—and carnage ensued.
The battle went on for two hours
In a flowing stream. They fought hard
Like wild beasts, silent, hand-to-hand.
The stream became blocked with bodies.
I wanted to scoop up some water,
(the heat and the fighting had wearied me)
But the turbid ripples
Were warm, were red.
How the 4' 10" (147cm) lieutenant survived such a long hand-to-hand battle is not known. He had a permanent limp from a riding fall and judging from his festive lifestyle was hardly in good shape. Even allowing for some exaggeration, the Valerik experience must have been terrifying.
In "Valerik" he contrasts the gory details of battle with the "peaks eternal with their pride and peace" of the Caucasus landscape. And he concludes the long poem by addressing his reader with sentiments not unlike those in "Alone, I Step"—though with a hopeful outcome: "imminent awakening."
God spare you
From seeing it [war]. You have
Enough other worries. Isn't it better
To end life's journey in selflessness?
To fall into a deep sleep
With the hope of imminent awakening?
There are other lyric poems where Lermontov uses nature to calm himself. Indeed, nature becomes a therapy:
The mountain peaks
Sleep in the dark of night:
The peaceful valleys
Are full of fresh mist.
No dust rises from the road
No leaves tremble…
Wait a little,
You will relax.
("After Goethe" 1842)
Lermontov was looking for calm and an escape from anxiety well before he experienced battle. In the 1837 poem "When Yellow Cornfields" he finds calmness in a nature scene—a yellow cornfield, silver lilies and a valley brook:
Then anxiety surrenders to my soul.
Then the wrinkles on my brow disperse
And I can grasp the happiness on Earth
And see the face of God in the heavens…
Lermontov had always been highly strung. And he had long sought solitude for his own mental health as well as for his poetry writing. It notable that most of his writing was done away from the city.
In "The Sail" he describes the duality of his character. It describes a boat leaving home. The sailor is after adventure; he's "rebellious." The poem ends with a dismissive "As if there was peace in storms." The poem contains the two sides of Lermontov: his need for adventure and his need for peace.
His life was full of dissociative behaviour. Conflict appealed to him. He was known to be a bully, exploiting weaknesses in acquaintances. He adopted a haughty demeanour that offended his peers. He enjoyed fighting and was involved in two duels. Much of his writing was confrontational; his "Death of a Poet" attacked the Russian establishment and led to his first exile.
But he also wanted peace and solitude. A later poem dated January 1 (1840) describes how he tuned out at a noisy ball and dreamt of his childhood. This is clearly detachment. Earlier poems like "When yellow cornfields" showed he tried to find relief in nature from the stressful life he led. But the late poem "Alone, I Step Out" goes even further to the drastic solution of wishing to be buried alive. This poem suggests that his hand-to-hand battle experience had exacerbated his previous dissociative inclinations. After all, he was on his way to the front again—after having tried unsuccessfully to leave the Russian army.
A final note. Lermontov's actions in his fatal duel suggest he wanted to die there. He pointed his pistol to the sky and said loudly, in order to goad his opponent, "I shall not fire on that fool." After this comment his opponent walked up to the barrier and shot him dead through the heart and lungs. In a memoir, his second described Lermontov's demeanour at the crucial moment: "I shall never forget the calm, almost cheerful expression…as he faced the pistol muzzle already pointed at him." (see Laurence Kelly, Lermontov, p. 178) All this strongly suggests that Lermontov was really committing suicide in this duel.