Our concept is still more or less the original idea of
producing music that I love and that I would like
to introduce to people. That's all it is, and it has
not changed and will not change because it's
the only thing I can do. Manfred Eicher
My contact with ECM is beyond categorization:
it is a natural supplement to my composing. Arvo Pärt
The founder and presiding spirit of ECM Records is not
a typical music industry executive, which is perhaps why
Eicher has managed to survive the virtual disintegration
of the industry he entered 40 years ago. Richard Williams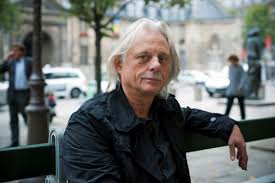 Perhaps the greatest success in the recording industry over the last 50 years has been Manfred Eicher's ECM label. While many other labels have either disappeared or merely maintained their status, ECM has gone from strength to strength. According to Phil Johnson, ECM has become "the most important imprint in the world for jazz and new music." (Art: Sound and Vision," Independent, 6 April 1999) This success is all the more remarkable because Eicher has never catered to popular taste, has never been governed by the market: "My choices have never been influenced by the record market evolution. I keep on choosing very intuitively the artists I want to produce, mainly because their music appeals to me, touches me, and that I feel it should be in our ECM catalogue. If I have enough money in the bank, I produce the record!" (Franck Ernould & Bruno Heuzé, "The ECM Sound: Beyond Silence, Transparence." Home Studio, 1999) John Potter of the Hilliard Ensemble has confirmed Eicher's approach: "He completely trusted our musical judgment and appeared not to consider the commercial implications at all." (Steven Lake, Paul Griffiths, eds., Horizons Touched, p. 67)
A remarkable aspect of ECM's success is that it is due almost entirely to the efforts of one person—Manfred Eicher. He founded the label, has developed the catalogue, has supervised almost all the recordings, and has marketed his albums worldwide. If any label can be called the product of one person, it has to be ECM.
Born in 1943, Manfred Eicher grew up in Southern Germany close to the Swiss border. He was musical as a child, starting with the violin and then switching to the bass at age 14 after hearing Paul Chambers on record. He had grown up with Schubert, Schumann and Beethoven; now Chambers brought to him "another kind of rhythm that I never experienced in classical music." (Interview with Gary Giddins, CUNY, 19 November 2009) For high school graduation his family gave him some travel money. He used this to visit New York in 1963, where he saw the Bill Evans Trio at the Village Vanguard and discovered bassist Scott LaFaro.
Despite his interest in jazz bass, Eicher joined the Berlin Philharmonic. He didn't stay long: "It was not my way of playing music. I didn't want to be in an orchestra for the rest of my life." (Giddins Interview) He was also working in avant-garde groups. Needing a paying job, he became a recording assistant for Deutsche Grammophon. While doing this work, he found out that he was a good listener. And when a friend suggested he change from playing to listening, he decided to become a record producer.
In 1969 at the age of 26 he borrowed 16,000 Deutsche marks and set up ECM (Edition of Contemporary Music). "To begin with I wanted to record the musicians I liked," he recalled later, "And I wanted to "raise the level of technical production of jazz recording in general." (Horizons Touched, p. 161) His first recording was jazz pianist Mal Waldron's Free at Last. It was numbered ECM 1001. His taste for avant-garde jazz was evident in his next three albums: Alfred Harth, Paul Bley, and Marion Brown.
Soon, within two years, several notable jazz musicians joined Eicher in long-term associations: Jan Garbarek (35 recordings), Chick Corea (16), Dave Holland (21), Keith Jarrett (76), Gary Burton (18), Ralph Towner (25). Such relationships with top-class musicians attest to Eicher's ability to satisfy their needs. He never makes long-term contracts; each recording is a separate contract. Rather, he depends on the satisfaction of his musicians to keep them with ECM. His successful musicians have contributed significantly to ECM's bottom line. Keith Jarrett, for example, with his sixth ECM recording, The Köln Concert, has swelled ECM coffers with over 3.5 million sales.
After issuing almost 200 jazz recordings over eleven years but finding the creativity in jazz waning, Eicher became increasingly interested in contemporary classical music. Thus he decided in 1981—the same year that he started digital recordings--to form a subsection of ECM: the ECM New Series. While still recording jazz, he went on to promote worldwide many classical musicians and contemporary composers. He began with cellist Thomas Demenga in 1980. A few years later his recordings of Arvo Pärt brought ECM considerable fame. Classical musicians like Hanz Hollinger, Gordon Kremer, The Hilliard Ensemble, and Andras Schiff began to record regularly for Eicher. The catalogue now stretches from music of the Middle Ages to contemporary classical and electronic music.
ECM is known for its distinctive sound. Eicher himself describes it well: "What you hear at ECM is a personal choice of mine, probably slower music than [the] music of presto. It is a kind of adagio. It's a chamber-music approach rather than a symphonic approach; therefore, people often tell us about a so-called 'ECM sound,' which is more related to the program [content] and to the programmatic artistic idea which is behind it. Okay, we have a lot of music that is spacious, transparent, whatever you want to call it, but people should also listen to the other side of the music that we record: the Art Ensemble of Chicago, in contrast to Arvo Pärt."
Indeed ECM has received a fair amount of criticism from the jazz world. The main criticism is that there is "not much stomping" on ECM records. This has come from the "It don't mean a thing if it ain't got that swing" jazz people. John Fordham, who in many ways is sympathetic to ECM, has noticed " a good deal of unfriendly comment," from jazz critics. Perhaps the most extreme is Barry McRae's comment on Jan Garbarek's Paths, Prints: "A slice of Nordic atmospheric nonsense to top all such ECM items in the past." (Quoted in Fordham, Shooting From the Hip, p. 177)
Nevertheless, ECM is still thriving under Eicher's control. It still has only a handful of employees and offices with Munich, Paris and New York. Although it continues to sell recorded music on CD (and some on LP), in 2017 Eicher made a major move to place the entire catalogue of 2600 recordings on all major streaming platforms. This was done to counter widespread illegal downloading. ECM announced that "It was important to make the catalogue accessible within a framework where copyrights are respected." (ECM Record News, 18 November 2017)
---
So how was Eicher able to create such a successful record label? Fundamentally he had drive and confidence: he has worked incredibly hard, some say obsessively, and he has trusted his ear. His ability to listen profoundly has been crucial. Then there's his ability to satisfy musicians, to earn their loyalty. Part of this ability is an essential aspect of Eicher's achievement—the achievement of a superior sound.
Eicher's Ear
Eicher's ability to listen, which took him from a professional bass player to a record producer, has been crucial. Listening, even amongst musicians, is often taken for granted. Clark Terry tells how Duke Ellington was always telling his orchestra members to really listen—"Listen, goddammit, listen!" (The Autobiography of Clark Terry, p. 133) And composer William Alwyn believed musicians should be taught to listen: "The young ears are not taught the prime essential of precise orchestral playing—they are not taught to listen." (Diary, 15 April 1956, p. 67) Somehow the young Eicher had developed his ear by the time he went to work at Deutsche Grammophon. Clearly his bass playing with avant garde groups had helped.
It was Eicher's sharp ear that attracted him to Arvo Part. While driving on the Autobahn on a moonlight night he heard something special on his radio (Pärt's Tabla Rasa): "It was so beautiful, like angel music, and I stopped the car. I drove out to a hill for better reception and listened to the whole piece. It took me one year after this point to find out what the music was." (New York Times, 23 December 2009)
Eicher is brilliant at assessing music. And he uses this skill continuously. "Music is the centre of my life," he told Robert Baird. "It is the essential core; everything else radiates from it, and to there I always return: to the concert halls, churches and studios. Music is my vocation." He finds it difficult to explain how he selects a musician for recording: "It has a lot to do with my first impulse and how I like things. And then there's intuition, and I make a spontaneous decision…. I probably get a ray of light or a hint, and then I have an idea how to make a record. There's no formula. You somehow have to have a wolfish or foxish quality, that you find things or you don't." ("Manfred Eicher: A Magnificent Obsession," (Stereophile, 21 November 2010)
At the 1972 Munich Jazz Festival Eicher conceived the idea of recording Chick Corea and Gary Burton as a duo. The two jazz musicians had come together by chance for an encore at the end of the festival. They hadn't played together before, and the combination of vibes and piano, two percussive instruments, was generally avoided. However, Eicher heard something special and decided he wanted to record them together as a duo. "Manfred kept calling and writing," Burton recalls. "I must say that one tune felt fun to play, but I didn't really read anything major into it. I though it was a one-time fluke. Manfred kept bugging us, so finally we agreed that we would go back to Europe to play the Berlin Festival as a duet and go in the studio the next day and record for Manfred." (Horizons Touched, pp. 151-2) The recording, Crystal Silence was a huge success and set in motion a duo partnership that stretched into the 21st century. British critic John Fordham may well have had this duo in mind when he wrote of Eicher's "remarkable conjunctions of unlikely players, which has enhanced the most spontaneous qualities of jazz." (Fordham, p. 84)
There's another good example of Eicher's ability to bring together musicians of very different styles: the joining of Jan Garbarek with the Hilliard Quartet. Who else would think of linking a modern saxophonist with a group singing Gregorian chants? Eicher got the idea while driving in Iceland and hearing The Hilliard Ensemble on his radio. Two years later he arranged their first recording, Officium, which became one of ECM's best sellers.
Eicher signed up many other individual musicians in this way, first hearing something special and then persistently tracking them down for a recording. Eicher first approached Jarrett in 1970, very early in his ECM career. He sent him a copy of Garbarek's Afric Pepperbird and requested that Jarrett do a trio recording for ECM. Eicher had no reputation at the time, but he was persuasive enough to get the already famous Jarrett to record for him twice in 1971. Eicher first heard Garbarek play in Italy, and after establishing relationship, went to Norway to record him. Eicher heard Metheny in Gary Burton's group and enlisted him to make his first recording as a leader.
All these examples of Eicher discovering and recruiting musicians (Burton, Corea, Garbarek, Jarrett, Metheny, The Hilliard Ensemble) led to long and fruitful relationships. He has had an amazing record of keeping the musicians he likes. This is due to Eicher's musical knowledge as a former professional musician, his profound understanding of the recording process, his ear again, and his dedication to getting things right. The process of his working with musicians is fundamental to his success.
In the Studio
Working closely with musicians means that he is always in the recording area with them, not behind the glass with the sound engineer: "A music producer, as I understand it, should be a trained musician in order to work with musicians--the psychological aspects. To be in front of the microphone, alert to things, and to be able to talk about intonation, phrasing and musical structure is very helpful." (Baird) As well, he wants to relax his musicians so that they can perform optimally: "For me it's very good to bring the demands of written music – phrasing, intonation, dynamics – to improvisational recording, where the approach is looser and more spontaneous. And vice versa, to bring some of the spirit of an improvised music session into a recording of written music, to get some empathy into it, so that it doesn't become an academic-circle record. I'm trying to make an exchange, to bring one to the other." (Richard Williams, "Manfred Eicher: the Sound Man," The Guardian, 17 July 2010)
Eicher stresses that the musicians have to "hear each other" and "have good contact with each other." In another interview, he has explained in different words his method of preparing the musicians: "The phase of preparation of a recording, together with the musicians themselves, is so important: phrasing and timbres, reading the scores (if there are any), esthetic choices to establish for the music itself, and of course, the mood in the recording studio, the ambience which mainly determines what will come through the sessions. For all these reasons, I consider myself as the first listener of the music, before it is even recorded. That's why musicians consider me as a partner, not as a technician." (Ernould & Heuzé) Elsewhere he says, "You become the first listener. A very intimate situation. The psychology of recording involves also eye contact, words and the intonation of words. It's always different." (Interview, Horizons Touched, p. 373)
Sound
Eicher has often described the sound he aspires to: "I want to have clarity on the music and lucidity and a certain amount of airiness. It needs to be in the music without fluctuation in overtones—these things are extremely important. Nothing is more mysterious than clarity." (AJ Dehany, "An Audience with Manfred Eicher," London Jazz News, 12 February 2018)
While he is actively working with musicians, Eicher is always considering sound. --"As soon as the music hits the microphone, then my role is to get the sound the best I can, as natural and direct as the musicians offer it to us. The job of the producer is, very simply, to receive in the best conditions what he is given, and to give it back with the most transparency possible." Transparency is a key term in his idea of sound: "The sense of 'transparency' is a key notion in the aesthetic, capturing clearly and accurately the depths and layers of all the sounds in different frequencies in the sound space.'" (AJ Dehany)
In his effort to get the right sound, Eicher discourages musicians from using earphones: "I like to see musicians record without earphones. It's a question of dynamics. With earphones, everything starts with mezzo forte. Musicians have a certain sound in the ear and then get inspired by that sound, get used to the sound, and maybe get distracted by the sound. Dynamically, it works so much better when you go into a good-sounding room, a good-sounding hall, and play acoustically and listen to each other, and the music flows in a very different way." (Baird)
Here are two experts (Franck Ernould & Bruno Heuzé) describing the ECM "trademark" sound: "Very precisely recorded instruments, a very homogeneous stereo image, and many levels of depth in the mix, thanks to electronic reverberation units, setup for long decays (this was unusual at the time). Eicher loves to melt unusual timbres: orchestral strings and electric piano melt with Eberhard Weber's bass in Following Morning (ECM 1084)." Eicher has explained to these experts his original attitude to sound: "My main concern, when I founded ECM, was to respect every aspect of the music. That meant be able to hear every nuance of the instrument, every colour, and respect the dynamics of sound, as given by the musician. This was quite a different way of recording jazz, and the public was sensible to it." (Ernould & Heuzé)
The extremes that Eicher went to can be seen from a comment by Swiss writer Peter Ruedi: "Eicher's research into the reproduction of piano timbre goes so far that one might say he created Jarrett's instrument, or rather 'his body of instruments' in the broadest sense." ("Continuity in Change, the Metamorphoses of Keith Jarrett," Horizons Touched, p. 141).
Sound Engineer
To meet his requirement for a high-level sound, Eicher, not a technical man himself, needed a sound engineer of the highest quality. In 1970, he found a young engineer, Jan Erik Kongshaug, in Oslo, where he had gone to record Jan Garbarek's Afric Pepperbird. Eicher himself had tried to record Garbarek in a museum. The results were poor, so he approached Kongshaug, who was working in the Arne Bendiksen Studio in Oslo. A successful re-recording of Garbarek led to a long partnership between Eicher and Kongshaug. Eicher stayed with him when the sound engineer moved to Talent studios and later when he set up his own studio in 1984. Kongshaug is reported to have made over 700 recordings for ECM.
Eicher stresses the need for teamwork. As a record producer he has to rely a great deal on the sound engineer: "It's a little bit like in movie work, when there's a team [of director and cinematographer], like Bergman and Nykvist…. These kinds of things are very intimate, actually, and we don't have to talk a lot anymore because we know we know each other very well…. It's very important to have this teamwork." (Baird)
Over the years Eicher and Kongshaug have developed a very efficient recording process. Typically an ECM recording takes 1-3 days for recording the musicians and 2-3 for mixing. Usually the musicians can start recording one hour after arrival. Kongshaug elaborates: "Manfred is always present at the sessions and takes a very active part in every recording…. I don't think Manfred's technically into the console thing. But he knows exactly what he wants to hear and asks me to make it work. During the mixing process he's actually working with the faders." (Ernould & Heuzé)
Eicher maintains his high standards right through to the final step. In the days of the LP, to ensure the best possible reproduction, he would cut and press his records at the Deutsche Grammophon Gesellschaft, the famous German classical-music label well known for the quality of its discs. Eicher has talked of the early days of getting a good pressing: "We searched for high-quality vinyl, we changed the head of the cutting machine for every new record, we drove as quickly as we could to the galvanization plant, to obtain a good mould. This was like a funny ritual." With the advent of the CD, different issues with pressing discs emerged, but high standards have of course been maintained.
Conclusion
In a recent televised interview, Gary Giddins told Manfred Eicher that he had been lucky:
"For a producer who is celebrated for not making meretricious or commercial decisions you had incredible luck in the early years. I mean you had some of the most commercially successful…." An amazed Eicher interrupted at this point with a rebuking, "You think it's luck?!" Giddins at least had the grace to say, "No," but when asked by Eicher, "What is it?" Giddins could only answer, "Well." He then moved to a different topic.
In Giddins' defence, Eicher's career as a record producer does on the surface seem paved with gold, paved with lucky breaks. Everything he has done, at least almost all of it, has been truly successful. Understandably Giddins was blinded by Eicher's many successes. In fact, at the start of my research on him, I too thought his career has been full of lucky breaks. Only when I looked deeper did I come to realize that his achievements are all due to his talent and hard work. Talent he clearly had—intelligence and a good musical ear (with perfect pitch). But he worked hard to develop his musical skills and his ear. Such dedication was then transferred to ECM—hard work in finding musicians, in recording them, in marketing them.
Philip Watson has succinctly described Eicher's achievement: "ECM has not only changed the way much modern music is recorded, it has also affected its very sound, shape, structure, even status. Focusing primarily on improvised and contemporary composed music, and their many intersections, and fostering cross-cultural 'world music' collaborations before the term even existed, Eicher has created countless highly regarded yet accessible albums that brilliantly break borders and defy easy categorisation." (Irish Examiner, 21 Nov. 2017)
Eicher has done much for musicians too. He discovered Arvo Pärt and made him famous. He has built the careers of Jan Garbarek and Keith Jarrett. He has also gone out of his way to record young classical composers who had no recording outlet for their work. There are many stories of gratitude. Paul Motian: "ECM was the first and only recording company to give me the opportunity to record my own music… I thought I would be content and happy to play drums in bands led by others….But I realise if it hadn't been for ECM, I might not have started writing my own songs." (Horizons Touched, p. 155) Cellist Anja Lechner: "Manfred, who has enabled me to undertake these inward and outward journeys, encouraged me time and again to go a step further." (Horizons Touched, p. 213)
Now 75, Eicher has been granted many honors from Germany, Estonia, Sweden, Norway, England, and the USA. In 2007 a large-format book on ECM, Horizons Touched, was published. In 2013 there was an exhibition in Munich's Haus der Kunst, "ECM—A Cultural History." None of these honors were granted because of his "incredible luck."